My Dream Kitchen
Happy Monday!
I want to share a post where I am featured in an interview over the pond at the Kitchen Appliance Centre about my dream kitchen.
Stay tuned this week I have a very exciting news to share.
Keeping you up to scratch with Appliance Know-How…

An Interior Designer's Dream Kitchen
To quote Terence Conran, author of the highly acclaimed Kitchen Book, "a kitchen provides physical and spiritual nourishment, and for many homes is now the heart and soul of family life." The kitchen is where your family prepares for the day first thing in the morning and friends gather late into the night. Getting your kitchen right is so important, and who better to get inspiration and advice from than the experts?
We asked three highly successful interior designers to share what their dream kitchen would look like, from gadgets and appliances to floors and worktops. Be warned, their answers may make you question everything you thought you wanted in your own dream kitchen! First up is Holly Phillips.
_________________________________________________________________________
Holly is the co-owner of North Carolina-based interior design company The English Room. Her personal style is elegant, eclectic and colourful and her portfolio showcases a plethora of dreamy designs that are perfectly executes. Holly's designs have been featured in Better Homes and Gardens, Southern Living and the Southpark Magazine in the Charlotte Observer, and we couldn't think of a better person to kick our kitchen dreaming off with.
Twitter | Facebook | Pinterest | Tumblr
Holly loves mixing traditional pieces with modern styles, which is why every element of her dream kitchen goes that extra mile; transforming the ordinary into the extra ordinary. Her ideal floor is the perfect example of this; simple wood is taken to the next level with a lick of paint. Holly fell in love with this subtle geometric pattern on the floor of this New England Home. We loved the idea of subtle paintwork on the floor as opposed to tiles or linoleum.
To keep the room bright, light and airy, steel windows are the order of the day. These frames (pictured below) have a traditional silhouette but when surrounded by contemporary fixtures and fittings serve a dual purpose. These windows act as a focal point for the room; flooding the space with light and bringing the outdoors in with their vast panes of glass. Classic shaker style cabinets with stylish Calcutta marble waterfall tops (swoon!) cut extra thick for a striking finish complete the look.
To keep the kitchen looking fresh and uncluttered, Holly would incorporate an "appliance garage to hide the coffee and the microwave." In addition to this the "pantry would be off to the side with large work spaces and all food items in clear glass display jars."
Moving on to the layout, open plan is the only way to go. A built in banquette with plenty of space for seating around it would provide the perfect space for guests to gather at dinner parties whilst an island counter with a waterfall counter top would be perfect for enjoying the views out of the windows at breakfast or entertaining in the evening. Bar stools upholstered in bright leather or material would surround the island and conveniently tuck out of the way when not in use. The seating for the banquette space would be the iconic Wegner wishbone chairs in a collection of fun, bright colours which would be arranged around the beautifully designed Saarinen Oval tulip table. Hanging about the banquette would be metal pendant lights which Holly would give her own unique twist by painting them the same colour inside as her oven.
Speaking of ovens, Holly's must have item in her dream kitchen is this vibrant range from Blue Star. Her custom built oven would be lavender or orange and feature six burners, a 12" grill in the middle and 8" back guards all offset with white knobs and stainless steel trims. By having a bespoke coloured oven, Holly is able to inject her dream kitchen with a signature pop of colour that isn't overbearing.
Her must-have gadgets include a WineStation, stocked at all times with "rich oak chardonnays like Rombauer and Dumol."
Holly's dream kitchen sounds pretty perfect to us and we love the quirky touches like the painted floors, coloured range and matching pendant lights. The wishbone chairs are a stylish yet comfortable touch and the gorgeous oval table would be a delight to dine at! What elements of Holly's kitchen caught your eye? We'd love to know…
_________________________________________________________________________
Our second interior designer is the wonderfully talented Greer Peachy of Peachy Design. Based in Kent, Greer has had a keen interest in design from a very young age. Her passion quickly led her down the path to success as she studied at two of the top design companies in the country; Central Saint Martins and the KLC School of Design. Greer champions British-made products and loves colour. Her style is simple and elegant but with a twist; be it a burst of colour or a unique focal point.
"I dream of an industrial retro kitchen with black units, flowing marble work tops, metro tiles, a wooden floor and, of course, the obligatory SMEG fridge freezer. There will be a sneaky pull out breakfast bar that can be hidden away when not being used, plus lots of open shelving to display my wares, my gorgeous copper pans and my cast iron Le Creuset cookware (that only my husband has the strength to lift)."
Her perfect counters would be tall and topped with thin marble worktops. Carrera marble is the only way to go as it's not only stylish but is also great for rolling out pastry! The walls would be lined with open shelves where Greer could display her dry foodstuffs in neatly organised jars. Ever practical, Greer points out that glass needs constant cleaning to keep it looking its best so anything that needs to be hidden would be concealed behind a solid wooden cupboard door. We think that borderless cupboards would complement her sleek and contemporary kitchen perfectly. Bringing a little outside in, there would also be a herb garden.
Given the industrial nature of this kitchen, the floor would have to be hard-working too and some light and wide oak floor boards like these beauties from Dinesen would do the job perfectly!
Greer loves entertaining and most of her parties start and finish in the kitchen. The means she dreams of a kitchen with vast space for entertaining, but organised so that the main cooking area would be set back from the seating area to allow Greer to work her magic in the kitchen. A wide induction hob that holds at least five pans, like this Neff hob, would be perfect for dinner parties whilst a Teppanyaki grill is perfect for adding a little drama. A Neff double oven and Franke's pull out tap completes the dream team.
Away from the cooking area the dining table, able to seat at least ten, would have a trough in the middle that could be filled with ice so guests could help themselves to chilled drinks throughout their visit. The island would have space underneath but also a bookcase on one side for neat storage of all of her cookbooks and beverage centres on the other for wine, water and beer.
Designer lighting would finish the whole look off; Tom Dixon pendants over the dining space, Delightfull's crazy graphic lamps would be up on the wall, and Lee Broom's stunning crystal pendants everywhere else.
After a long day of designing, Greer loves nothing more than unwinding with her family and watching a movie. Her must-have luxury kitchen gadget would be a cinema-sized popcorn maker because the movie experience just isn't complete without a big bowl of freshly popped popcorn!
_________________________________________________________________________
Last, but by no means least, we have Selma Hammer from Selma Hammer Designs. Selma is a multi-award winning interior designer who not only adores interior design but also has a passion for languages and giving back to the community.
Twitter | Facebook | Houzz | Blog
"My kitchens are always the central unit of the home. I love to entertain and I typically spend all day in the kitchen working on my laptop. I sit at the kitchen island most of the time; it's a great perching spot to see what's going on in my home. When anyone comes to my home they gather in the kitchen. I serve my food on my island and make sure there is plenty of food and drink.
In my dream kitchen I'd have two islands. One island would be for serving appetizers and one for serving the main dinner dishes. I would bake at one and chop and other food prep on the other. Both islands would have dishwasher drawers & refrigerators drawers.
I like the look of having furniture in your kitchen so I love it when islands have decorative legs. I do like the more traditional look but with a modern twist, including pendants & sleek appliances. I like functionality and great flow but love adding textures with fabric window coverings and area rugs. The area rugs serve to absorb noise from appliances and help dull echoing. They are also great to stand on for shock absorption. While preparing and washing dishes, it's nice to have a softer surface to stand on; it helps prevent achy legs and feet."
"What I love about this kitchen by Martha O'Hara Interiors is the contrasting island counter top. I think if you have a light colour (white or cream) on your cabinetry you should try to contrast your counter top with a darker colour, whether it's a dark rich wood, shown here or dark granite. I love the soft, leather look of the bar stools. I love having seating at the island.
My family loves sitting at the island while I prepare dinner. They do homework, play games on the computer, etc. A strong family unit is one that travels together around the house like a swarm of bees. If one is in the kitchen preparing dinner, they are all together there. Whether they are interacting the whole time or they just love the presence of one another; it shows that you enjoy each other's company and like to know what everyone is doing. For me, I love an open floor plan, so I know what the kids are up to, while I cook and do the dishes."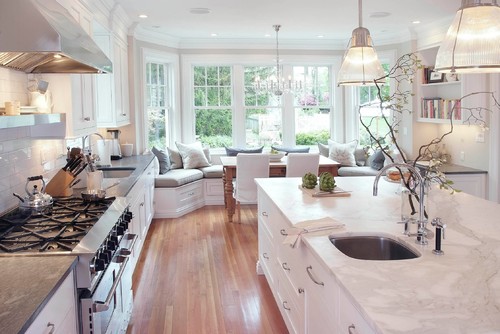 "I love this granite counter top from Pickell Architecture. I love the natural flow of movement found in granite. I love to select the individual slabs, and select each run so I know where certain chunks of the granite are going in the design plan. Granite is a natural gemstone. I love jewellery, so to me granite is dressing up the kitchen with beautiful stones. The demand of quartz has increased thus making granite more affordable. I would select unique granite that is only found in one quarry in the world so when people come over to my house, they take photos of it because it's so unique. I love to be different."
"I love flooring. First of all it has to be functional. I like hardwoods because they have a softer feel to them than a stone. There are gorgeous stones out there such as travertine but I'd do reclaimed hardwoods with a nice variation in colour. I like that fact of up-cycling used materials, such as from a barn to be eco-friendly but I love that there is a deep history in the product. I love a great story, so how cool would it be to preserve wood that has been used to raise animals, like baby chickens! I would love a herringbone layout in the wood. The natural colour variances in the wood planks would be highlighted this way."
When it comes to gadgets, Selma isn't shy. She loves technology and adores new and innovative products, as long as they serve both a functional and aesthetic purpose.
"I don't like big bulky appliances that take away the show. I saw this awesome new Dacor WineStation at the Architectural Digest Home Show last week. It preserves wine for up to 60 days, cools the wine at the right temperature and is so easy to pour."
_________________________________________________________________________
From this, it's clear that a dream kitchen is totally unique to each and every individual but there's one thing that's unanimous across the board; the kitchen is a space designed for socialising. Whether it's lunch with the family or dinner with friends, the kitchen acts as the gathering place, the meeting room, the stage, the bar, the restaurant, and the place to relax!
Getting your kitchen right is so important and we hope that our wonderful interior designers have given you some inspiration for your dream kitchen. We'd love to know what elements of these three dream kitchens you liked the most, and what you'd include in your own dream kitchen so please feel free to leave your comments below.
Please make sure you "like" The English Room on Facebook.
Follow Holly Phillips @ The English Room on Pinterest
Follow The English Room in Tumblr
Please feel free to contact The English Room if you are interested in our interior design services in Charlotte or beyond.